Nesbitt: Charter schools must be diverse, accountable (video)
Post on February 15, 2011 by Clayton Henkel
1 Comment »
Print This Post
A Senate education committee resumes debate Wednesday on Senate Bill 8 removing the cap on the number of charter schools in North Carolina.
Senate Minority Leader Martin Nesbitt told reporters Tuesday that Democrats are not opposed to lifting the cap, but are troubled by a provision to establish a separate commission to license and oversee charter schools.
Nesbitt notes that such a panel would operate independently from the State Board of Education and would create redundancies at a time when legislators are trying to cut duplication from state government.
Another sticking point for Senate Democrats is eliminating the diversity requirement for charter schools. To hear Senator Nesbitt's full remarks, click below: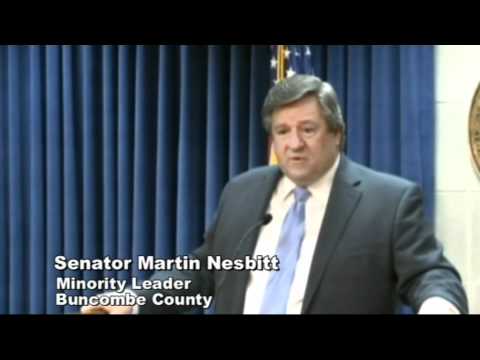 This entry was posted in Uncategorized. Bookmark the permalink.