Budget advances as Senate Dems highlight shortcomings (video)
Post on June 1, 2011 by Clayton Henkel
Comments Off
Print This Post
One day after Senate President Pro Tem Phil Berger announced bipartisan support on a compromise budget, the package found no support among Senate Democrats on Wednesday.
While the Senate gave its initial approval to the $19.7 billion spending plan, it was strictly along party lines (31-18).
Randolph County Republican Senator Jerry Tillman told the chamber that school superintendents would be "very, very overjoyed" to see they would only need to cut 5.8 percent.
But Senate Democratic Whip Josh Stein said while the compromise budget may sound good to some on the surface, in reality it will make deep and damaging cuts to Smart Start, community colleges and the university system.
Senator Dan Blue of Wake County said the state was effectively "eating its seed corn" by eliminating the N.C. Teaching Fellows program.
Cumberland County Senator Eric Mansfield told his colleagues just because the average citizen doesn't understand the intricacies of the budget, that doesn't give the Republican leadership the right to gut investments in education and health care:
"Although this budget may speak for your beliefs…it does not speak for the voices of the rest of North Carolina," said Mansfield
A final vote on Thursday and the budget bill goes back to the House. For a snapshot of Wednesday's three hour debate, click below: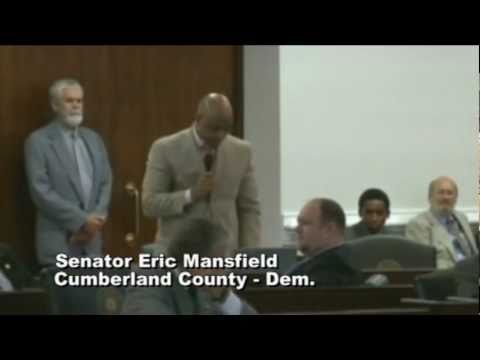 This entry was posted in Uncategorized. Bookmark the permalink.