Educators tell judge legislative cuts deny access, gut programs (video)
Wake County Superior Court Judge Howard Manning Jr. will continue to hear testimony Thursday on whether the state's new budget cuts school funding too deeply, in effect preventing every child's constitutional right to a sound, basic education.
John Pruette, Executive Director of the Office of Early Learning within DPI, told the court Wednesday that requiring a new co-pay for children to enroll in More at Four would be a barrier for many low-income families. The successful pre-kindergarten program also had its funding cut 20 percent in the budget passed by the General Assembly.
John Dornan, former Executive Director for the Public School Forum, told Manning that this was about far more than the job cuts that have been widely reported. Dornan said he was troubled by the elimination of tutoring, mentoring, and summer school programs to make ends meet. He concluded his remarks with this blunt assessment:
"If one set out to consciously decimate our programs aimed at building the capacity and strength of our teachers and principals, I think it would be extremely difficult to do a better job."
House Speaker Thom Tillis issued his own statement at the end of the first day of testimony:
"If Judge Manning wants to vote on the budget, he should run for office as a legislator. While I respect his opinion on judicial matters, it appears that this is an attempt to literally legislate from the bench."
To listen to part of Wednesday's hearing, click below: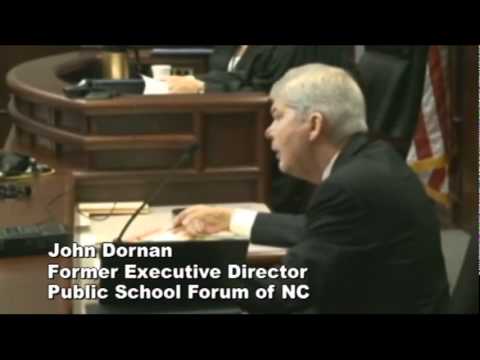 This entry was posted in Uncategorized. Bookmark the permalink.