Mansfield: Partisan maps segregate communities, makes NC less inclusive (audio)
Posted By Clayton Henkel On August 8, 2011 @ 1:36 pm In Uncategorized | Comments Disabled
Many of North Carolina's incumbent [1] Democrats remain hopeful that the federal courts will overturn the redistricting plans approved by the Republican-controlled legislature last month.
State Senator Eric Mansfield [2] tells N.C. Policy Watch while he actually stands to benefit from the "stacking and packing [3]" in his district, the partisan lines will take North Carolina back to a segment in our history "no one wants to go back to."
The Cumberland County lawmaker explains how in an effort to redraw District 21 [4] with an African-American majority, Republicans added parts of Hoke County (some 20 miles away) but cut out his neighbor across the street:
"My biggest problem is that we're now beginning to segregate a community which has done exceptionally well to vote for people they believe in, not based on their race."
To hear a portion of Sen. Mansfield's radio interview that aired over the weekend, click below. To hear the rest of News & Views with Chris Fitzsimon, visit the Radio Interview section [5] of the N.C. Policy Watch website. There you can listen to the entire show online or subscribe to our podcast feed on iTunes!: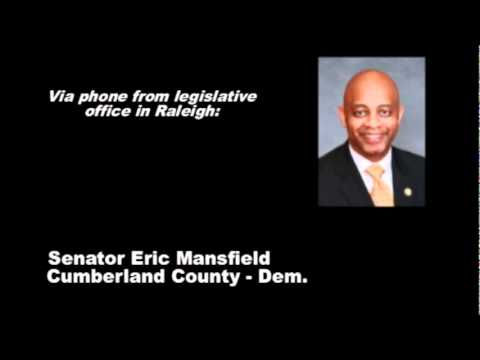 [6]
---
Article printed from The Progressive Pulse: http://pulse.ncpolicywatch.org
URL to article: http://pulse.ncpolicywatch.org/2011/08/08/mansfield-partisan-maps-segregate-communities-makes-nc-less-inclusive-audio/
URLs in this post:
[1] incumbent: http://www.newsobserver.com/2011/08/08/1397764/miller-isnt-going-to-back-down.html
[2] State Senator Eric Mansfield: http://www.ncleg.net/gascripts/members/viewMember.pl?sChamber=S&nUserID=292
[3] stacking and packing: http://www.democracy-nc.org/concerns/Redistricting2011.html
[4] District 21: http://www.ncleg.net/gis/randr07/District_Plans/PlanPage_DB_2011.asp?Plan=Rucho_Senate_2&Body=Senate
[5] Radio Interview section: http://www.ncpolicywatch.com/category/radioandvideo/radio-interviews/
[6] Image: http://www.youtube.com/watch?v=6gIMiMErZlg
Click here to print.