Children, families, personnel feel the brunt of Smart Start cuts (video)
Post on August 29, 2011 by Clayton Henkel
Comments Off
Print This Post
Legislative leaders and Governor Perdue are battling over the proper response to Judge Howard Manning's ruling that budget changes to More at Four deny at-risk kids the sound, basic education the state constitution guarantees them.
The legislative leadership slashed funding for More at Four and Smart Start by roughly 20% this summer.
Stephanie Fanjul, president of the NC Partnership for Children, says the devastating cuts and additional restrictions have resulted in the loss of about 25% of the Smart Start staff statewide that administers high-quality childcare and health services for children from birth to age five.
"Unfortunately, there are a lot of kids who aren't getting served," Fanjul said. "There's fewer dollars which means fewer services. It's not very complicated."
To hear a portion of Fanjul's radio interview that aired over the weekend, click below. To hear the rest of News & Views with Chris Fitzsimon, visit the Radio Interview section of the N.C. Policy Watch website. There you can listen to the entire show online or subscribe to our podcast feed on iTunes!: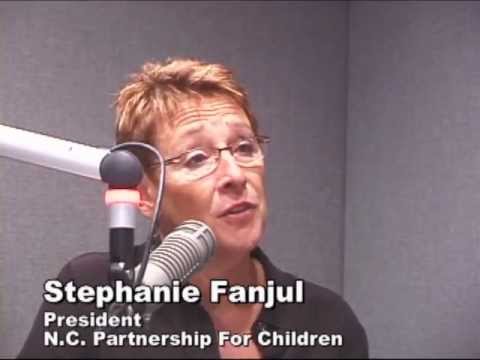 This entry was posted in Uncategorized. Bookmark the permalink.