Senate votes to put anti-gay amendment on May 2012 ballot (w/ video)
Post on September 13, 2011 by Clayton Henkel
6 Comments »
Print This Post
Following the GOP-led House, the NC Senate voted (30-16) on Tuesday to place a constitutional amendment on the ballot next May allowing voters to ban same-sex marriage.
North Carolina already has a state law that defines marriage as being between one man and one woman. But Senator Jim Forrester, a lead sponsor of the amendment, said the constitutional provision is needed to protect traditional marriage from activist judges.
Senator Josh Stein criticized legislators who dismissed the state's economic woes, to instead "graft onto our constitution controversial, social legislation."
Senate Minority Leader Martin Nesbitt suggested that rather than deal with the rising unemployment rate or hurricane relief, Republicans would rather create a distraction with this wedge issue:
"Every time we do that, and we find another crowd we want to step on….so we can feel superior…it brings out the very worst in us when we do that."
Senator Ellie Kinnaird called gay marriage the last civil rights issue:
"Where are we going to be a generation from now? Who are going to be the brave people who said, 'This is discrimination'? …and I wonder what your children and grandchildren will think of you?"
Republican Senate President Pro Tem Phil Berger said those who believe in the marriage amendment look forward to eight months of healthy debate. (As Rob Schofield noted on the blog earlier today, there are 237 days for that debate.)
To hear a portion of Tuesday's Senate debate click below: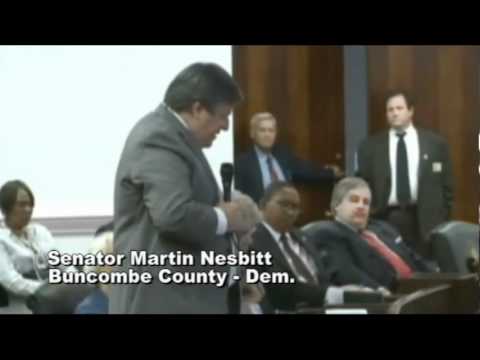 This entry was posted in Uncategorized. Bookmark the permalink.