Ravitch: Parents should be wary of efforts to privatize public education (audio)
Posted By Clayton Henkel On October 3, 2011 @ 12:56 pm In Uncategorized | Comments Disabled
Diane Ravitch [1], one of the country's leading education scholars, visits Duke University [2] Monday evening to discuss education reform.
Ravitch, who served in both George H.W. Bush and Bill Clinton's administrations, joined us on News & Views over the weekend to outline some of the problems with corporate education reform. She explains that while "reformers" will point to charter schools and vouchers as a way of raising test-scores, there's little evidence these ideas work:
"What the free market does in education is it exacerbates inequality. It increases segregation," said Ravitch.
To hear a portion of Diane Ravitch's radio interview with Chris Fitzsimon, click below. To hear the rest of the program  – including our interviews with Public Policy Polling's Tom Jensen [3] and ESC Deputy Chair David Clegg [4] –  please visit the Radio Interview [5] section of the N.C. Policy Watch website. There you can listen to the entire show online or subscribe to our podcast feed on iTunes: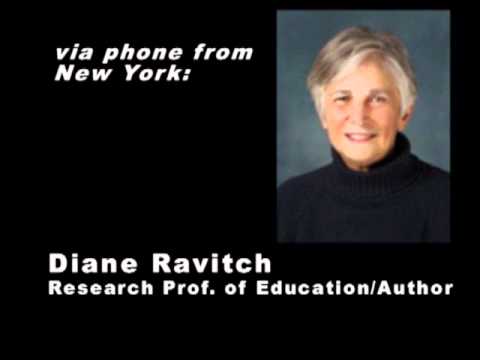 [6]
---
Article printed from The Progressive Pulse: http://pulse.ncpolicywatch.org
URL to article: http://pulse.ncpolicywatch.org/2011/10/03/ravitch-parents-should-be-wary-of-efforts-to-privatize-public-education-audio/
URLs in this post:
[1] Diane Ravitch: http://www.dianeravitch.com/vita.html
[2] Duke University: https://tickets.duke.edu/Online/default.asp?doWork::WScontent::loadArticle=Load&BOparam::WScontent::loadArticle::article_id=BBFCDAA4-00D8-4C4B-8347-5C61B762482B
[3] Tom Jensen: http://www.ncpolicywatch.com/2011/10/03/public-policy-pollings-tom-jensen-with-ncs-latest-approval-ratings-and-a-look-ahead-to-2012/
[4] David Clegg: http://www.ncpolicywatch.com/2011/10/03/esc-deputy-chair-david-clegg-on-ncs-10-4-jobless-rate-and-the-unemployment-insurance-trust-fund/
[5] Radio Interview: http://www.ncpolicywatch.com/category/radioandvideo/radio-interviews/
[6] Image: http://www.youtube.com/watch?v=wP6nPyVnJEM
Click here to print.