Building a Stronger NC – A Legislative Briefing (video)
Still trying to make sense of the 2011 legislative session and how it might impact your community in the New Year?
This week the United Way of North Carolina, the N.C. Budget & Tax Center, and the N.C. Justice Center will continue its legislative series, "Building a Stronger North Carolina, A Conversation in Progress", with presentations in Wilmington, Rocky Mount, Elizabeth City, and Fayetteville.
N.C. Justice Center Senior Policy Advocate Louisa Warren joined us on News & Views this past weekend to talk about the upcoming legislative "road shows", the impact of the state budget on N.C. in 2012, and the need for a more robust social safety net.
Warren notes that while legislative budget-writers have sought to downplay the number of public-sector jobs lost this year, a whole-budget analysis shows once the budget cuts take full effect in FY2012-13, the state can expect to lose even more jobs in the private sector and throughout local government.
It's a troubling assessment, as North Carolina needs to add 515,000 jobs just to reach its pre-recession employment levels.
To hear a portion of Warren's radio interview with Chris Fitzsimon, click below. To listen to the full interview  – including last week's interviews with U.S. Rep. Brad Miller, Holly Petraeus and Rep. Verla Insko  -  visit the Radio Interview section of the N.C. Policy Watch website. There you can listen to the entire show online or subscribe to our podcast feed on iTunes.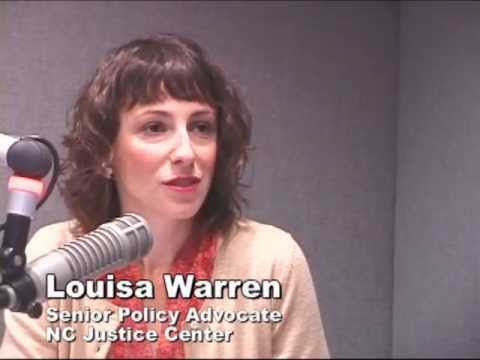 This entry was posted in Uncategorized. Bookmark the permalink.