Worse than Washington? (audio)
Posted By Clayton Henkel On January 5, 2012 @ 4:33 pm In Uncategorized | Comments Disabled
State Senator Josh Stein [1] suggests Republicans in the General Assembly may find voters every bit as disgruntled as they are with Congress [2] following the GOP's early morning legislative session [3].
When House Republicans did not have the votes needed Wednesday to override Governor Perdue's veto of a bill that would essentially repeal the Racial Justice Act, they turned their attention to other legislation parked in the "veto garage."
House Speaker Thom Tillis called the process a "learning experience [4]" and defended voting to override the veto on Senate Bill 727 [5] in a session that wasn't announced until midnight.
Democrats called the closed door meetings and late night maneuvering [6] "unconstitutional" and a "disgrace."
Thursday morning, Senator Stein summed it up this way:
"If you can't trust the other side, then there is suspicion and acrimony, and then things devolve into like I said, what's going on in Washington."
Stein appears this weekend on News and Views with Chris Fitzsimon to talk about this week's contentious session . For a preview of the Senator's radio interview, click below: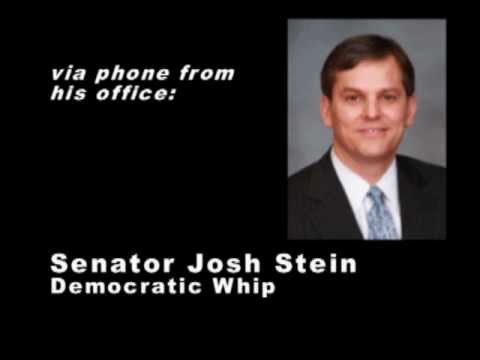 [7]
---
Article printed from The Progressive Pulse: http://pulse.ncpolicywatch.org
URL to article: http://pulse.ncpolicywatch.org/2012/01/05/worse-than-washington-audio/
URLs in this post:
[1] State Senator Josh Stein: http://www.ncleg.net/gascripts/members/viewMember.pl?sChamber=S&nUserID=267
[2] Congress: http://www.rasmussenreports.com/public_content/politics/mood_of_america/congressional_performance
[3] legislative session: http://pulse.ncpolicywatch.org/2012/01/05/educators-will-sue/
[4] learning experience: http://www.wral.com/news/state/nccapitol/blogpost/10563086/
[5] Senate Bill 727: http://www.ncleg.net/gascripts/BillLookUp/BillLookUp.pl?Session=2011&BillID=s727
[6] maneuvering: http://www.newsobserver.com/2012/01/05/1754535/gop-passes-late-night-bill-to.html
[7] Image: http://www.youtube.com/watch?v=n9A5zE-iRGA
Click here to print.