Coalition kicks off campaign to defeat NC's anti-gay amendment (video)
The Coalition to Protect All NC Families formally launched its campaign Wednesday to defeat Amendment One, which defines a marriage between one man and one woman as the only legal union to be recognized in the state.
The campaign kickoff follows Tuesday's release of a new website detailing the harms the proposed ballot initiative would cause not just same-sex couples, but unmarried couples as well.


Campaign manager Jeremy Kennedy says conservative lawmakers are pushing to write discrimination into the Constitution this year, even as a younger generation has voiced growing support for civil unions and gay marriage.
Kennedy, who appears on News & Views this weekend, says over the next 15 weeks thay will be working to engage college students, faith-based leaders, progressives and others and urge them to vote 'No' against the May 8th amendment.
A recent survey by Public Policy Polling shows the amendment against gay marriage would pass (56%/34%) if the vote were held today. Yet 57% of North Carolinians support some form of legal recognition for gay couples – either full marriage rights or civil unions.
To hear a preview of Kennedy's radio interview with Chris Fitzsimon, click below: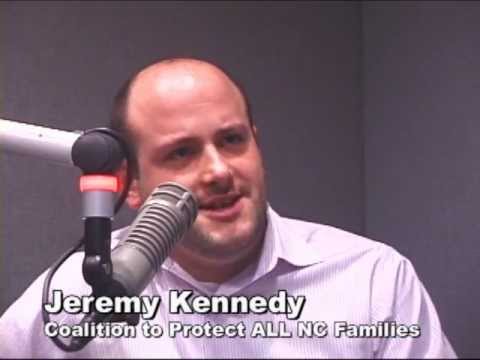 This entry was posted in Uncategorized. Bookmark the permalink.