Poverty gaffe causes a stir, but may prove undamaging for Rep. Cleveland (video)
Posted By Clayton Henkel On March 1, 2012 @ 10:26 pm In Uncategorized | Comments Disabled
Rep. George Cleveland [1] continues to draw criticism for his assertion Thursday that there was "no extreme poverty" in North Carolina.
Just hours after he made the remarks in a legislative committee hearing to limit Pre-K eligibility, the
Onslow County Republican landed on the 'Worst Persons' list on Countdown with Keith Olbermann [2].
State NAACP President Rev. William Barber joined in calling Cleveland's "erroneous contention"  another reminder of the "disdain for the poor" in North Carolina.
In fact, in Rep. Cleveland's own home county, 13.8% of the residents are living below the poverty level, based on the latest Census [3] data. More than 10,000 children in that county receive free or reduced lunch, according to the Food Bank [4]of Central and Eastern North Carolina. And just over ten percent (10.1%) of the children in Onslow County are members of families living in deep poverty [5] – defined as earning less than $11,157 a year for a family of four.
But even after landing in the national spotlight, it's unlikely he's worried about the negative attention [6].
When the filing period closed for public office at noon on Wednesday, the incumbent Republican from Jacksonville had no partisan competition [7] for District 14, returning Cleveland to serve his constituents for a fifth term in the state House.
To hear the remarks by Rep. Cleveland that generated such a stir, click below: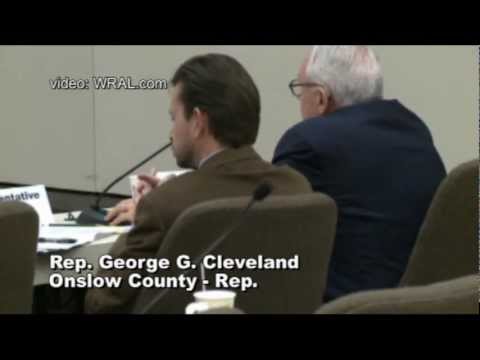 [8]
---
Article printed from The Progressive Pulse: http://pulse.ncpolicywatch.org
URL to article: http://pulse.ncpolicywatch.org/2012/03/01/poverty-gaffe-causes-a-stir-but-may-prove-undamaging-for-rep-cleveland-video/
URLs in this post:
[1] Rep. George Cleveland: http://www.ncga.state.nc.us/gascripts/members/viewMember.pl?nUserID=476&sChamber=H
[2] Countdown with Keith Olbermann: http://current.com/shows/countdown/videos/worst-persons-richard-cebull-george-cleveland-and-rush-limbaugh
[3] Census: http://quickfacts.census.gov/qfd/states/37/37133.html
[4] Food Bank : http://content.foodbankcenc.org/profiles/Onslow.pdf
[5] deep poverty: http://pulse.ncpolicywatch.org/wp-content/uploads/2012/03/NC-County-Data-Poverty-and-Deep-Poverty-Rates.pdf
[6] negative attention: http://thinkprogress.org/economy/2012/03/01/435579/carolina-rep-nobody-poverty/
[7] no partisan competition: http://ncfef.org/Images/2012_Election_Tracker.pdf
[8] Image: http://www.youtube.com/watch?v=QNxoajJcH7U
Click here to print.