Race to the Ballot finale in Wilmington (audio)
Post on March 2, 2012 by Clayton Henkel
Comments Off
Print This Post
Race to the Ballot wraps up this Friday afternoon with a voter registration drive and rally on the UNC-Wilmington campus.
Jen Jones, who has spent the past five weeks running 322 miles across the state to raise awareness about Amendment One, says the effort has been well worth it.
Jones, with the Coalition to Protect All NC Families, says they have literally talked to thousands of people along the way about the harms caused by the proposed constitutional amendment that would ban civil unions and define marriage as only between one man and one woman.
She says people on both sides of the marriage issue have had reservations after learning that the broad, untested language of the May 8th ballot initiative could affect employment benefits for domestic partners, domestic violence protections, child custody rights, and even end-of-life decisions  for unmarried couples as well as same-sex couples.
Jones joined us last week on News and Views with Chris Fitzsimon. Click below to hear part of her comments about her statewide trek. For the full interview visit the radio interview section of the N.C. Policy Watch website: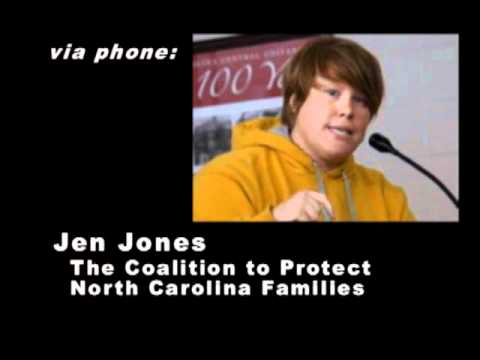 This entry was posted in Uncategorized and tagged amendment one, Marriage amendment. Bookmark the permalink.