Fracking foes and fans line up to be heard (audio)
Post on March 21, 2012 by Clayton Henkel
Comments Off
Print This Post
Hundreds of North Carolinians turned out Tuesday evening in Sanford for DENR's first public hearing following the release of a draft report that deemed fracking can be done safely.
Opponents counter that the 400+ page study only raises more questions about water quality, property and mineral rights, and the disposal of  the waste that would be created.
Supporters believe the controversial drilling practice may hold the key to reducing the region's double-digit unemployment rate.
Yet another speaker was angry the public was allotted just two minutes to voice their concerns – not nearly enough time to discuss the technical aspects of hydraulic fracturing.
With the next public hearing slated for Tuesday (March 27th) in Chapel Hill, it's clear that the N.C. Department of Environment and Natural Resources will have more to consider before May 1st, when they are scheduled to deliver their final recommendations to the General Assembly.
To hear a portion of the public comments from the Sanford hearing, click below: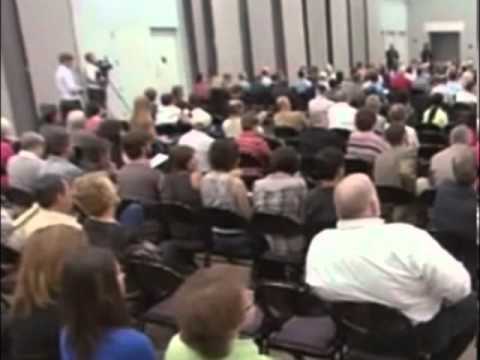 And as a reminder, written comments will also be accepted through April 1.  (Written comments can be sent via email to Shale_gas_comments@ncdenr.gov; or through the mail to NCDENR, attn: Trina Ozer, 1601 MSC, Raleigh, NC 27699.)
This entry was posted in Uncategorized and tagged fracking. Bookmark the permalink.