Governor Perdue: Amendment One is 'dangerous' for NC (video)
Posted By Clayton Henkel On April 12, 2012 @ 8:12 pm In Uncategorized | Comments Disabled
With early voting set to begin next week, Governor Bev Perdue has issued a video on her You Tube channel detailing a long list of reasons to oppose Amendment One. Perdue, who is not seeking re-election, says the anti-gay marriage initiative will harm the security and stability of all North Carolina families.
Children of unmarried couples could also be harmed by the passage of  the May 8th amendment, as their their health care benefits and access to drug coverage could be stripped away by the broadly-worded initiative, according to the governor. And she believes the proposal stands to invalidate many domestic violence protections for women.
"Whatever your personal, moral or religious views might be, writing discrimination into North Carolina's constitution is just plain wrong," said the governor in a video released Thursday.
Over the past few months the list of those speaking out against the marriage discrimination amendment has grown to include: former Charlotte mayors Richard Vinroo [1]t (R) and Harvey Gantt (D), former Supreme Court Justice Bob Orr [2], former Libertarian gubernatorial candidate Mike Munger [3], U.S. Senator Kay Hagan [4], Congresswoman Renee Ellmers [5](R), all three of the current Democratic gubernatorial candidates, and John Hood [6], president of the John Locke Foundation.
To hear Governor Perdue's latest statement, click below: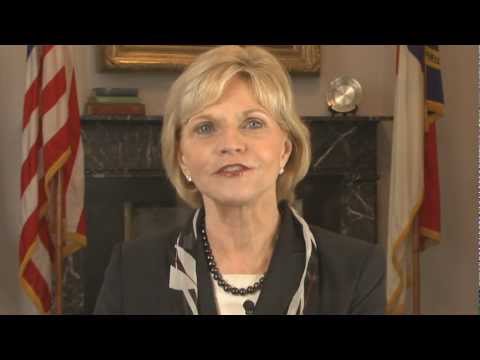 [7]
---
Article printed from The Progressive Pulse: http://pulse.ncpolicywatch.org
URL to article: http://pulse.ncpolicywatch.org/2012/04/12/governor-perdue-amendment-one-is-dangerous-for-nc-video/
URLs in this post:
[1] Richard Vinroo: http://www.charlotteobserver.com/2012/04/10/3163480/harvey-gantt-richard-vinroot-join.html
[2] Bob Orr: http://www.southernstudies.org/2012/03/is-the-conservative-consensus-crumbling-over-gay-marriage.html
[3] Mike Munger: http://www.protectncfamilies.org/videos/duke-political-science-professor-michael-munger-speaks-out-against-amendment-one
[4] U.S. Senator Kay Hagan: http://pulse.ncpolicywatch.org/2012/02/22/hagan-i-urge-all-north-carolinians-to-oppose-amendment-one/
[5] Renee Ellmers: http://www.newsobserver.com/2011/10/02/1532832/amendment-is-too-broad-to-get.html
[6] John Hood: http://www.indyweek.com/citizen/archives/2012/03/26/john-hood-john-locke-says-no-on-racism-homophobia-and-amendment-one
[7] Image: http://www.youtube.com/watch?v=kUe-7Dd30kk
Click here to print.