Spaulding: Amendment One supporters represent 'the old guard' trying to hold back a changing culture in NC (Audio)
Posted By Clayton Henkel On April 16, 2012 @ 9:32 pm In Uncategorized | Comments Disabled
Supporters of Amendment One are encouraging pastors to preach a marriage-themed sermon on April 29th [1] and then encourage congregants to vote early. Opponents of the proposed constitutional amendment are quick to say the May 8th ballot initiative is not about protecting marriage, but about pure discrimination.
Pam Spaulding, editor and publisher of  the highly regarded blog Pam's House Blend [2], says if the  broadly-worded amendment should pass next month, it would ensure that any legal recognition of civil unions or domestic partnerships are banned.
"The term 'domestic legal union' does not exist in any North Carolina statute. And what they are going to end up with if this passes is endless litigation," said Spaulding in an interview with N.C. Policy Watch.
A recent survey by Public Policy Polling [3] found despite confusion about the consequences of Amendment One, 51 percent of North Carolina voters support some legal recognition for same-sex couples.
To hear an excerpt of  Pam Spaulding's interview with Chris Fitzsimon, click below. To hear the full segment from News & Views, visit the radio interview section [4] of the N.C. Policy Watch website – where you will also find our interviews last week with gubernatorial hopeful Pat McCrory [5] and the EDF's Jane Preyer [6].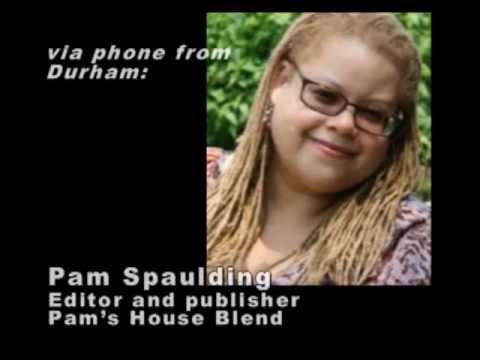 [7]
---
Article printed from The Progressive Pulse: http://pulse.ncpolicywatch.org
URL to article: http://pulse.ncpolicywatch.org/2012/04/16/spaulding-amendment-one-supporters-represent-the-old-guard-trying-to-hold-back-a-changing-culture-in-nc-audio/
URLs in this post:
[1] April 29th: http://www.voteformarriagenc.com/sunday/
[2] Pam's House Blend: http://pamshouseblend.firedoglake.com/
[3] Public Policy Polling: http://www.publicpolicypolling.com/pdf/2011/PPP_Release_NC_032912.pdf
[4] radio interview section: http://www.ncpolicywatch.com/category/radioandvideo/radio-interviews/
[5] Pat McCrory: http://ow.ly/ak7yb
[6] Jane Preyer: http://www.ncpolicywatch.com/2012/04/16/jane-preyer-southeast-director-of-the-environmental-defense-fund-discusses-fracking-in-nc/
[7] Image: http://www.youtube.com/watch?v=AYiCjkeFp3o
Click here to print.