NC NAACP: Fully fund NC public schools, not private voucher 'schemes' (audio)
Post on May 24, 2012 by Clayton Henkel
7 Comments »
Print This Post
The president of the NC NAACP is giving a cool reception to House Bill 1104 – legislation introduced this week that would offer tax credits to corporations making donations to provide private-school scholarships.
If approved, as much as $40 million of state tax dollars could be redirected starting next year to give low-income children up to $4,000 to attend private or religious schools.
Outside the General Assembly on Wednesday, Rev. William Barber questioned the motivation behind the legislation that critics say would drain more money from public education:
"They want to do everything but fix public education," said Barber."What we ought to be focusing on is fully funding education, fully funding LEANDRO, making sure that every child has a high-quality, constitutional, well-funded diverse public education, we wouldn't need all these other schemes."
The Wilmington Star News echoed those thoughts in their latest editorial:
'The $4,000 scholarships would not cover the full cost of tuition for many private schools, meaning the poorest students may not be able to take advantage of the program.

If Republican lawmakers are truly interested in improving the public schools, they should stop trying to dismantle them and work on reducing class sizes, improving teacher training, putting more resources into extra tutoring for students who are behind, and stop taking money away for supplies, technology, textbooks and teachers.'
To listen to Rev. Barber's remarks, click below: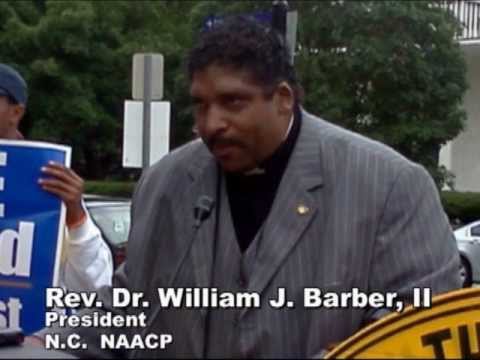 This entry was posted in Uncategorized. Bookmark the permalink.