Budget all but snuffs out tobacco prevention funding (video)
Post on June 26, 2012 by Clayton Henkel
1 Comment »
Print This Post
Much of the reporting on the General Assembly's 2012-13 budget has focused on the $189 million less that school districts will have to work with next year. But health advocates believe the public will be also troubled to learn of  the deep cuts made to the North Carolina's smoking prevention and cessation programs.
The legislature's final budget includes only $2.7 million in non-recurring funds for smoking prevention programs, including the  TRU campaign and the Quitline NC.
Peg O'Connell with the North Carolina Alliance for Health says $17.3 million was what was needed to maintain current efforts. And at this level of funding, there's a very real threat that the hard-fought progress made over the past decade will be quickly eroded.
O'Connell, who appeared on News & Views with Chris Fitzsimon last weekend, says the major tobacco companies now spend about $10.5 billion per year (that's nearly $29 million every day) to promote their products.
To hear a portion of the interview with O'Connell, click below. To hear the full segment, visit the Radio Interview section of the N.C. Policy Watch website. (Also be sure to check out last weekend's interviews with Rep. Earline Parmon on eugenics compensation and members of the  We Are NC coalition on immigration reform.)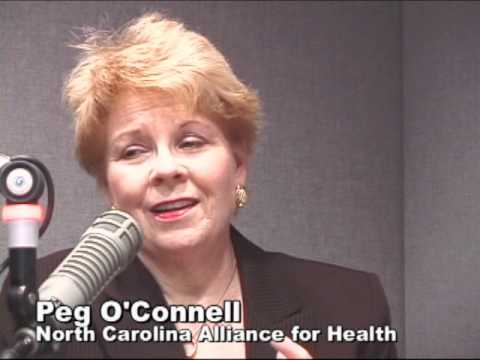 This entry was posted in Uncategorized. Bookmark the permalink.