Coble: The worst decision of the two year session…(video)
Post on July 16, 2012 by Clayton Henkel
3 Comments »
Print This Post
Still trying to make sense of the 2012 General Assembly?
The Executive Director of the N.C. Center for Public Policy Research joined us in studio last week to discuss the winners and losers following the contentious, short legislative session.
Ran Coble shares his thoughts on the depth of the cuts that were made in state spending, fact-checks the claims the budget will lead to new job creation, and weighs in on the fall elections.
Coble also explains why he believes the worst decision of the two-year session may have been  the General Assembly's override of Gov. Beverly Perdue's veto of a bill that gives all North Carolina community colleges the ability to refuse to participate in a low-interest federal student loan program.
"And I just think that's a travesty for the kids in community college trying to get money to pay for an education," explains Coble.
To hear an excerpt of Coble's radio interview with Chris Fitzsimon, click below. To download a podcast of the full interview or listen online, visit the Radio Interview section of the N.C. Policy Watch website: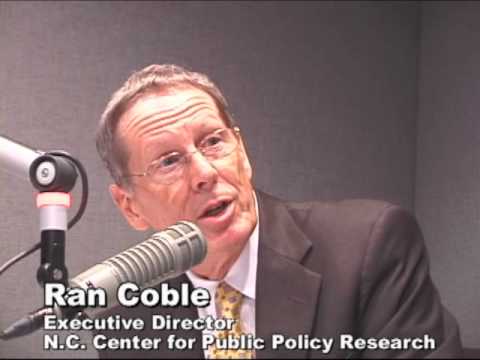 This entry was posted in Uncategorized and tagged budget cuts, community colleges, higher education. Bookmark the permalink.