NCAE: State budget cuts mean more hardships for public schools this fall (video)
Posted By Clayton Henkel On August 22, 2012 @ 8:50 am In Uncategorized | Comments Disabled
Monday marks the start of the traditional calendar year for many North Carolina's public schools. And while parents have been busy getting their children restocked with notebooks, backpacks, and new clothes, less attention has been devoted to the shape many classrooms will be in.
Rodney Ellis, president of the N.C. Association of Educators [1], says the latest round of legislative budget cuts will mean another year of making do with less in our public schools, at a time state lawmakers are pushing education reform and greater access to charter schools.
The state budget approved by lawmakers over the summer gave teachers a 1.2 percent raise [2], but left public schools with $190 million less [3] than they had a year ago. Districts like Gaston [4], Edgecombe [5], and Rowan-Salisbury [6] have consolidated or eliminated teaching assistant positions, clerical and custodian jobs to accommodate the funding shortfall.
Ellis joins us this weekend on News & Views to talk about the impact of  fewer resources and larger classrooms as educators embark on the new school year. For a preview of his interview with Chris Fitzsimon, click below: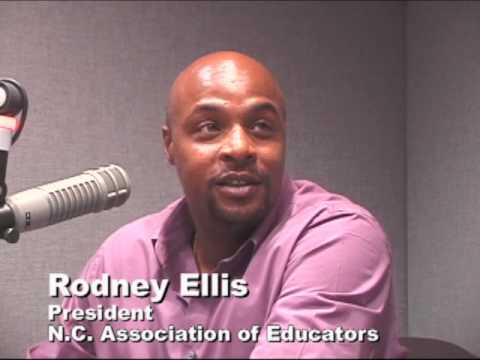 [7]
---
Article printed from The Progressive Pulse: http://pulse.ncpolicywatch.org
URL to article: http://pulse.ncpolicywatch.org/2012/08/22/ncae-state-budget-cuts-mean-more-hardships-for-public-schools-this-fall-video/
URLs in this post:
[1] N.C. Association of Educators: http://www.ncae.org/
[2] a 1.2 percent raise: http://www.starnewsonline.com/article/20120726/ARTICLES/120729727
[3] $190 million less: http://whichwaync.com/2012/07/11/190-million-less/
[4] Gaston: http://www.gastongazette.com/articles/assistants-72965-positions-county.html
[5] Edgecombe: http://dailysoutherner.com/local/x685074288/School-board-to-discuss-budget-cuts
[6] Rowan-Salisbury: http://www.salisburypost.com/News/073112-Rowan-Salisbury-teachers-getting-1-percent-raise-despite-budget-cuts-qcd
[7] Image: http://www.youtube.com/watch?v=1OVT-5YUiMw
Click here to print.