Perceptions of wealth, economic fairness keep presidential race tight in NC (video)
Posted By Clayton Henkel On August 29, 2012 @ 3:12 pm In Uncategorized | Comments Disabled
There's no shortage of advice (you can read a few pieces here [1], here [2], and here [3]) for Republican presidential nominee Mitt Romney who accepts his party's nomination Thursday night in Tampa.
Political observers will be watching the address to see whether Romney offers a vision that results in a solid lead in battleground states [4] like North Carolina, or whether it is merely good enough for a more fleeting, post-convention bump.
Dr. Andy Taylor [5], a political scientist at N.C. State University, believes Romney faces a couple of challenges during his acceptance speech and after the convention concludes.

He notes while people are upset about the economy, many are unconvinced that Romney would be any better than President Obama. Taylor also believes that the widening income gap [6] between the rich and poor is having an impact on the voting public.
A poll released earlier this week by the Pew Research Center [7]found about two-thirds of Americans (65%) say the nation's income gap  has only gotten larger in the past decade. And 57% say that's a bad thing for society. Nearly six-in-ten (58%) said the rich pay too little in taxes. Just 8% believe that they pay too much.
Taylor joins us this weekend on News & Views to talk more the political conventions, and how perceptions of economic fairness are shaping the presidential race. For a preview of his radio interview with Chris Fitzsimon, click below: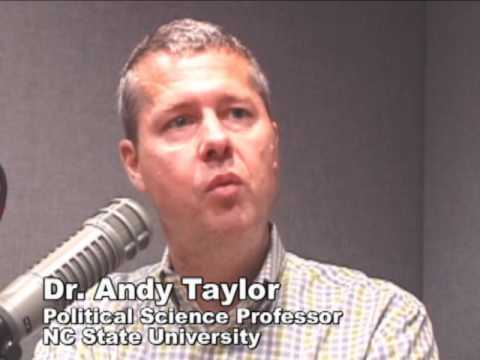 [8]
---
Article printed from The Progressive Pulse: http://pulse.ncpolicywatch.org
URL to article: http://pulse.ncpolicywatch.org/2012/08/29/perceptions-of-wealth-economic-fairness-keep-presidential-race-tight-in-nc-video/
URLs in this post:
[1] here: http://www.nj.com/politics/index.ssf/2012/08/chris_christie_republican_conv.html
[2] here: http://www.suntimes.com/news/marin/14691072-452/edgars-advice-for-romney-show-people-you-have-human-side.html
[3] here: http://www.youtube.com/watch?v=6sA1qsZDzPE
[4] battleground states: http://politicalticker.blogs.cnn.com/2012/08/27/north-carolina-moves-in-cnn-electoral-map/?hpt=hp_t1
[5] Dr. Andy Taylor: http://www.ncsu.edu/experts/experts/view/542/Dr.+Andrew+Taylor
[6] widening income gap: http://pulse.ncpolicywatch.org/2012/08/29/north-carolina-experiences-decade-of-growing-wage-inequality/
[7] Pew Research Center : http://www.pewsocialtrends.org/2012/08/27/yes-the-rich-are-different/
[8] Image: http://www.youtube.com/watch?v=ipM8-IIlMq8
Click here to print.