Fewer jobs, lower wages the focus this Labor Day (video)
Post on August 31, 2012 by Clayton Henkel
6 Comments »
Print This Post
As one political convention ends and another is set to begin, there's plenty of talk about the American spirit and the value of hard work. But getting lost in that rhetoric is the reality facing many working families in North Carolina this Labor Day.
Data released this week by the NC Budget & Tax Center found fewer jobs at the end of the last decade than at the beginning. The research also points to an acceleration away from high-wage industries like manufacturing and toward low-wage industries like food services. Here's an excerpt from the BTC:
'From 2001 to 2011, the state shed almost 380,000 jobs, almost 75 percent of which were concentrated in industries with average wages above the Living Income Standard, a market-based measure of how much a family must earn in order to meet basic expenses. In 2010, the North Carolina Living Income Standard for a family of four was $23.47 an hour.

North Carolina's job gains during that decade were almost entirely concentrated in low-wage industries. More than 83 percent of the state's job growth occurred in industries paying average wages below the Living Income Standard.'
NC State AFL-CIO Secretary-Treasurer MaryBe McMillan joins us this weekend on News & Views to talk about the state of work in North Carolina. McMillan weighs in on anti-union rhetoric, as well as the need for collective bargaining and more jobs that pay a living wage. For a preview of her radio interview with Chris Fitzsimon, click below: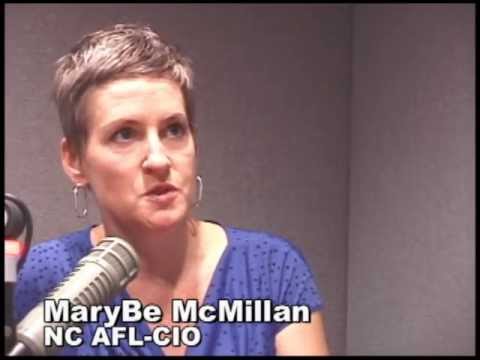 This entry was posted in The State of Working North Carolina, Uncategorized. Bookmark the permalink.