Consumer advocates protest bank's payday lending practices (Audio)
Post on October 3, 2012 by Clayton Henkel
1 Comment »
Print This Post
Dozens of consumer advocates and concerned citizens staged a demonstration in front of Regions Bank in Raleigh Wednesday to send a strong anti-predatory lending message.
The NC General Assembly made payday lending illegal in 2001, and the Attorney General chased out the remaining payday lenders in 2006. But now, Regions is offering North Carolinians 365 annual percentage rate (APR) loans.
Activists say the out-of-state bank is exploiting a federal loophole that allows banks to ignore the state's usury laws.
"Banks should not be allowed to undermine our state usury cap," said Al Ripley, director of the Consumer Project at the NC Justice Center. "We've made a choice in North Carolina to stand up against abusive loans, and we need to affirm that choice now."
"This product simply traps struggling families in debt," said Chris Kukla of the Center for Responsible Lending. "Our research shows that the average bank payday loan borrower ends up taking 16 of these loans in a year, which translates into being in debt to the bank an average of 175 days per year.  Put another way, the average borrower who takes out a $300 loan will end up paying at least $480 in fees."
To hear more from those protesting the predatory products, click below: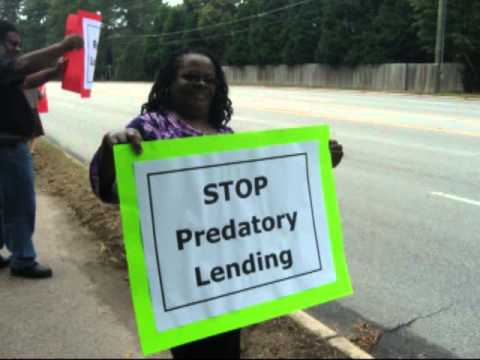 This entry was posted in Uncategorized and tagged predatory lending, Regions Bank. Bookmark the permalink.