Call it a 'cliff' or call it a 'slope' – there's little progress on fiscal showdown (video)
Post on November 28, 2012 by Clayton Henkel
2 Comments »
Print This Post
With a little more than a month left to reach a deal, President Obama and Congress resume work today on the so-called fiscal cliff.
The President will meet with select business leaders and members of middle-class families to discuss what's at stake if an agreement is not reached by the end of the year.
The Obama administration wants to preserve the Bush-era tax cuts for the middle class, while eliminating those tax cuts for Americans earning more than $250,000 a year. Republicans have indicated a willingness to raise revenue through closing loopholes, but are also pushing cuts to entitlement programs like Medicare and Social Security.
This weekend on News & Views with Chris Fitzsimon,  NC Budget & Tax Center policy analyst Allan Freyer joins us in studio to discuss why the cliff should really be considered more of a fiscal slope, and why both political parties want to avoid the automatic spending cuts and tax increases that could sour economic growth in 2013.
"That's what we're hoping comes of this eventually is a balanced approach to deficit reduction," explained Freyer. "[That] finds news revenues through letting the tax cuts for the wealthy expire, then smart spending cuts, not this across the board meat ax."
For a preview of Freyer's  radio interview, click below: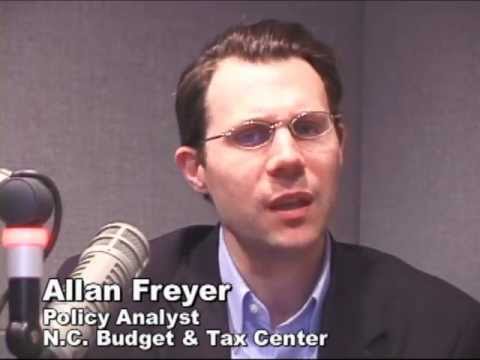 This entry was posted in Uncategorized. Bookmark the permalink.