Legislators roll out 'drastic' plan to overhaul unemployment insurance system (video)
Post on December 5, 2012 by Clayton Henkel
Comments Off
Print This Post
Members of the Revenue Laws Study Committee will unveil a proposal Wednesday that would sharply reduce jobless benefits and the duration of those benefits for North Carolinians.
The state has had to borrow $2.5 billion from the federal government in order to continue paying jobless benefits throughout the Great Recession. But advocates note that the state's unemployment insurance trust fund—which supports the payment of benefits—was severely depleted in the 1990s after a series of tax cuts for employers.
"The changes to the unemployment insurance system being pursued by Revenue Laws Committee members will significantly reduce benefit amounts and the duration of benefits while doing nothing to address the long-term financial footing of the unemployment insurance system," said Bill Rowe, director of advocacy at the North Carolina Justice Center.
MaryBe McMillan, NC State AFL-CIO Secretary-Treasurer, is critical of the fact the plan was developed over the last 10 weeks without an opportunity for public comment.
McMillan joins us this weekend on News and Views to discuss the legislative proposal, and why she believes it will have a significant and negative effect on the state's economic recovery.
Late Tuesday, a petition with more than 575 signatures from North Carolinians was delivered to members of the Revenue Laws Committee calling on the committee to give greater opportunity for public input and delay any immediate vote on the proposal:
To hear an excerpt of McMillan's radio interview with Chris Fitzsimon, click below: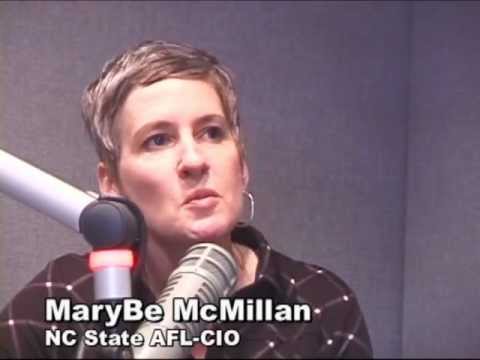 This entry was posted in Uncategorized and tagged unemployment insurance. Bookmark the permalink.