UPDATE (4:52 p.m.): The dress code issued Monday was rescinded because Wos hadn't approved the policy, according to Julie Henry, DHHS' communications director.
UPDATE (2:56 p.m.):  The new DHHS dress code issued by the agency Monday may be recalled Wednesday afternoon because Wos hadn't signed off on the policy, according to an email from human resources staff sent to DHHS employees. (A copy of the email was obtained by N.C. Policy Watch.) We've got calls in to DHHS to find out more about the situation, and will update this post as we hear more.
The N.C. Department of Health and Human Services, in what appears to be one of the first big directives for newly-appointed Secretary Aldona Wos, has a dress code at last, with unkempt appearances at the workplace not to be tolerated.
The new dress code (click here to see) was announced on Monday, and requires daily bathing and grooming, among other things. Gone are dress-down Fridays.
The 17,000-plus state agency previously hadn't had a department-wide dress code, according to Julie Henry, a spokeswoman for the department.
Male managers and executives need to wear suits with Oxford-style collar dress shirts, with female directors required to wear slacks or skirts. Other employees are given a bit more leeway, with polo shirts for men allowed and women permitted to wear dress capris (as long as they are mid-calf or longer.)
On the "What not to Wear" list (no word if Clinton and Stacy of the similary-named TLC show were consulted) are leggings, pants below the waist, denim, "underwear as outerwear," evening wear and sunglasses, unless there's a documented medical reason to wear shades.
Nixed were proposals made in earlier drafts to keep skirts within an inch of a woman's knee, draft documents of the dress code show.
Violations of the dress code are considered "unacceptable personal conduct" and employees that show up with clothing on the "do not wear" list will have to leave work and return in appropriate attire. A third violation could mean being fired.
N.C. Policy Watch had gotten wind of the changes afoot several weeks ago, and submitted a public records request on Jan. 16.
In documents released Tuesday by DHHS in response to the request, top directors at the department  were informed early on in Wos' tenure that employee attire was a top concern, as seen in a list of her preferences sent in a Jan. 17  email to DHHS directors by Maria Spaulding, a deputy secretary at DHHS.
Also on the list was having a good working relationship with office of State Auditor Beth Wood (who appeared with Gov. Pat McCrory and Wos last week at a press conference to talk about budget overruns in the state Medicaid office); following directives from Wos; and to stop using "fluff" in work correspondence.
It's little surprise that Wos would want to tackle the dress code early on in her tenure – she did, after all,  put "cleanliness" as a top requirement of DHHS staff  when she introduced herself to her new employees on Jan. 9 after her appointment. (Video of comments below.)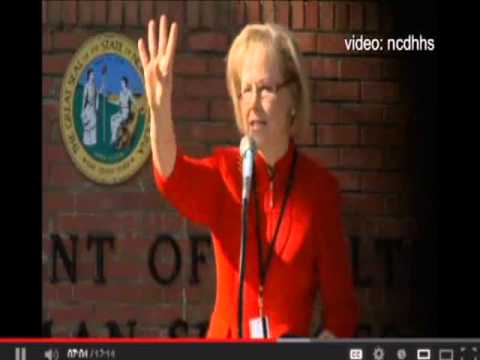 "We need to demand of ourselves, our colleagues, our supervisors from the secretary and the governor, that we have the proper cleanliness in our offices and in our building and it starts with you," Wos said.  "That's our personal dignity, we must be responsible for ourselves and our environment."