If ever there was a day that highlighted how much we need affordable energy, it was today. Speakers from AARP, NAACP, Consumers Against Rate Hikes and the Justice Center spent some time in the wind and cold to call attention to rising utility costs — and their consequences for working families.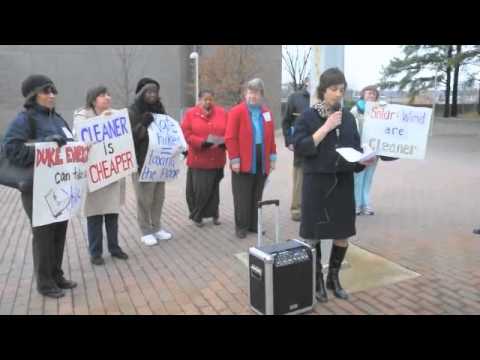 Rochelle Sparko, a consumer and housing attorney with the Justice Center, made the following remarks this morning about proposed rate hikes for Duke and Progress Energy.
***
Rochelle Sparko
Feb. 8, 2013
Thank you for inviting for me to speak today.
I work with the NC Justice Center, a nonprofit whose mission is to build opportunity and prosperity for all. As we move forward to plan our next two decades of energy policy, it is crucially important we consider the needs of North Carolina's low-income working families.
Each year, about 250,000 North Carolina homes are cut off from their utility services. This is a devastating outcome in the best of times. During a cold winter or a hot summer, these consequences can be life-threatening. If we're serious about doing right by our working families, we have to consider utility rates. Rising costs can wreak havoc on a family budget.
And the issue of utility costs is of special importance for working families today. This is a uniquely dangerous time for low-income people in North Carolina. We continue to have unemployment numbers cresting 9 percent statewide – rates that are much higher in certain areas. This year, lawmakers also plan to cut benefits for jobless workers and to reject a Medicaid expansion that would help low-income families.
Even in a good economy, hundreds of thousands of people face disconnection of their utilities due to poverty. In a tough economy, where 1.7 million North Carolinians live in poverty, the problem is both more widespread and has a greater impact.
Imagine the city of Raleigh going dark. Imagine that suddenly, 415,000 people in our state's capitol were without heat and light.
The same thing is happening in our communities every year, where a population greater than the city of Raleigh is forced to go without those basic necessities.
If we plan wisely, we can create a sustainable energy future over the next 20 years. I believe that with judicious planning, we can pave the way to a North Carolina where Raleigh never has to go dark.
But if we fail, the consequences will be severe – and they will fall heaviest on those least able to bear them.