On ideology, better medical care, and 'hogwash' (video)
Post on February 15, 2013 by Clayton Henkel
1 Comment »
Print This Post
Supporters of Medicaid expansion will deliver a petition with more than 10,000 signatures to Governor Pat McCrory Friday, urging him to expand Medicaid in North Carolina.
Both the NC House and Senate have passed legislation that would reject billions of dollars from the federal government for Medicaid expansion, denying potential health care coverage to over 500,000 North Carolinians.
The editorial board at the Fayetteville Observer writes that refusing billions of dollars in health care funding is "clearly ideological, rooted in deep and strong opposition to Obamacare."
The paper also notes that the legislative leadership's decision to block Medicaid is the rejection of thousands of new jobs for North Carolina that would come from expansion.
Stanly County Rep. Justin Burr called those jobs numbers yesterday "pure BS." (See video below.)
Burr told his colleagues:
"We create jobs in this state by pulling the government back and allowing the private sector to flourish."
Here's  the Fayetteville Observer's take:
"[Senate leader Phil ] Berger and Gov. Pat McCrory also say the state's Medicaid program is a mess and is in no position to handle the extra load. What they're saying, then, is that they're incapable of restructuring Medicaid to stop the losses through fraud and waste. Since a recent audit points to the location of the problems, we would hope that's not so.

Berger also worries that Medicaid doesn't pay hospitals enough to cover the cost of care. But those 500,000 uninsured people today are getting free care in emergency rooms across the state, at the expense of taxpayers and the rest of us who have insurance and pay higher premiums to cover all that unreimbursed care. The state's hospitals estimate failure to adopt expanded Medicaid will cost them about $5.6 billion over the next 10 years.

Alternatively, a state study shows that expanding Medicaid will create 23,000 new jobs in the health-care industry and add more than $1 billion to the economy. That's exactly the kind of job creation needed in a state with the 5th-highest unemployment rate in the country. It's also the kind of job creation our legislative leaders promised in their last session and in this one – but haven't produced.

The decision to refuse Medicaid expansion is clearly ideological, rooted in deep and strong opposition to Obamacare. How else to explain why the N.C. House passed legislation in 2011 to establish state-run health-insurance exchanges and is now repudiating its own initiative?

Ideology is trumping common sense and better medical care for state residents. That's a shame."
On Thursday, Rep. Burr called a study that found thousands of jobs would be created by Medicaid expansion "hogwash":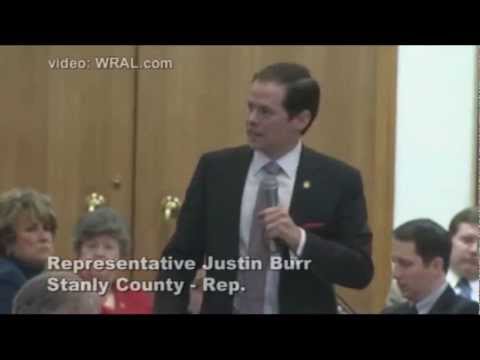 This entry was posted in Uncategorized. Bookmark the permalink.