AARP-NC: Efforts to block Medicaid expansion 'shortsighted' (video)
Post on February 25, 2013 by Clayton Henkel
Comments Off
Print This Post
This week could see a bill emerge from conference committee ironing out House and Senate difference to legislation to block the expansion of Medicaid health coverage for 500,000 low-income, uninsured North Carolinians.
Governor Pat McCrory has indicated he will sign the bill, saying the current system is "broken."
Doug Dickerson, state director of AARP-NC, calls the push back on Medicaid expansion 'shortsighted' for a number of reasons:
"We know that Medicaid expansion would have provided about 23,000 – 25, 000 jobs in this state. We know it would have reduced healthcare premium cost growth by about two percent,"'explained AARP-NC director Doug Dickerson."But now because Medicaid expansion will not go through, employers and others who are paying for healthcare coverage, they can expect crowded emergency rooms, they can expect to pay a little bit higher premiums because of the decisions of the General Assembly and the governor."
Dickerson appeared over the weekend on News & Views with Chris Fitzsimon to discuss the bill and the group's 2013 legislative agenda.
Click below to hear an excerpt from that interview.  The full segment can be downloaded from the Radio Interview section of the N.C. Policy Watch website along with last week's interviews with Rep. Rick Glazier and Dr. Jonathan Oberlander with the UNC School of Medicine: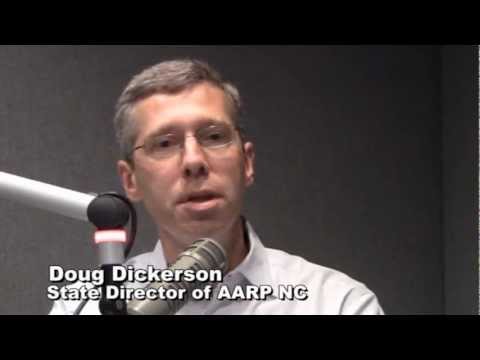 This entry was posted in Uncategorized. Bookmark the permalink.