Latino advocates hold lobby day as lawmakers consider restrictive RECLAIM NC Act (video)
Posted By Clayton Henkel On April 24, 2013 @ 5:00 am In Uncategorized | Comments Disabled
Wednesday is Latino Legislative Day [1] at the General Assembly, and immigrants rights groups will be in Raleigh discussing comprehensive immigration reform with state lawmakers.
Their lobbying day also coincides with the first committee hearing for a sweeping piece of legislation aimed at undocumented residents.
The RECLAIM NC Act [2] would grant certain driving privileges for undocumented immigrants under a restricted license, but the bill would also authorize immigration status checks of individuals lawfully stopped, detained, or arrested.
House Bill 786 would also reject the use of a matricula consular [3] or other similar documents as an acceptable form of identification.
El Pueblo's [4]Executive Director Angeline Echeverría weighed in on the legislation last weekend when she appeared on News & Views with Chris Fitzsimon.
To hear an excerpt of that interview, click below. To hear the full segment, including her thoughts on in-state college tuition for undocumented students, visit the Radio Interview [5] section of the NC Policy Watch website.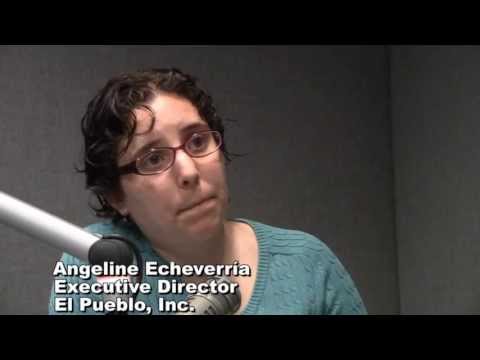 [6]
---
Article printed from The Progressive Pulse: http://pulse.ncpolicywatch.org
URL to article: http://pulse.ncpolicywatch.org/2013/04/24/latino-advocates-hold-lobby-day-as-lawmakers-consider-reclaim-nc-act-video/
URLs in this post:
[1] Latino Legislative Day: http://letslearn.adelantenc.org/2013/join-us-in-raleigh-at-the-latino-legislative-day/
[2] RECLAIM NC Act : http://www.ncleg.net/gascripts/BillLookUp/BillLookUp.pl?Session=2013&BillID=h+786&submitButton=Go
[3] matricula consular: http://en.wikipedia.org/wiki/Matr%C3%ADcula_Consular
[4] El Pueblo's : http://www.elpueblo.org/eng/
[5] Radio Interview: http://www.ncpolicywatch.com/2013/04/22/el-pueblos-executive-director-angeline-echeverria-discusses-why-the-time-is-right-for-comprehensive-immigration-reform/
[6] Image: http://www.youtube.com/watch?v=eL_YLELpzmM
Click here to print.