Senate committee limits local control, regulations on outdoor smoking (video)
Post on May 14, 2013 by Clayton Henkel
8 Comments »
Print This Post
Members of a Senate committee advanced legislation Tuesday that would prohibit local governments and community colleges from regulating outdoor smoking in any manner that is more restrictive than State law.
Senator Buck Newton, the sponsor of Senate Bill 703, told members of the Agriculture/Environment/Natural Resources committee that it was 'ridiculous' that adult smokers could not enjoy tobacco on a windy beach, a city sidewalk, or while sitting on the back of their pick-up truck on a community college campus.
Several Senators noted that their local community colleges opposed this bill, and wanted to keep their campuses smoke-free. But Newton said smokers were unhappy.
And with lawmakers urging Newton to amend his legislation, Senator Andrew Brock expedited a voice vote on SB 703, allowing it to advance to the Senate's State and Local Government Committee.
Following the hearing, Pam Seamans with the NC Alliance for Health issued a statement calling on the NC General Assembly to reject Newton's bill and maintain strong smoke-free laws:
"SB 703 would repeal the authority of local governments and community colleges to prohibit smoking on outdoor grounds, including parks, and eliminate the choice that local governments have in protecting their citizens from the dangers of secondhand smoke.

Currently, 56 of the 58 community colleges have taken local action to protect students and faculty from the dangers of second-hand smoke, and 35 have become completely tobacco free, but if it passes, SB 703 would force these campuses to go back to the days where smokers gathered outside classroom buildings and everyone coming and going ended up smelling of smoke.

North Carolina has a long and proud tradition of maintaining decision making at the local level—where it is closest to the people and most responsive to their needs.  The ability of our towns, counties and community colleges to do what they think is best is paramount as the General Assembly considers SB 703. Those communities that want to take action to protect health can, and those that do not wish to, don't have to. Leave the decision-making up to those closest to the community."
SB 703 could be on the Senate floor later this week. To hear a portion of Tuesday's debate, click below: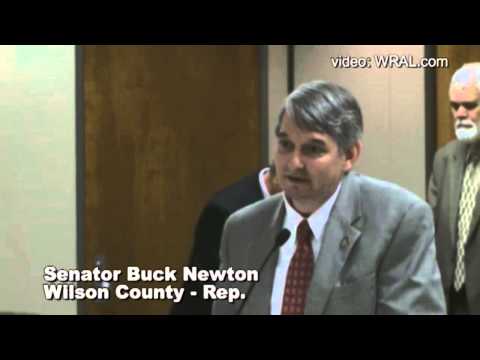 This entry was posted in Uncategorized. Bookmark the permalink.