Sweeping voting changes now before McCrory (video)
Post on July 26, 2013 by Clayton Henkel
6 Comments »
Print This Post
The threat of a possible lawsuit by the U.S. Justice Department was not enough to slow the Republican-dominated legislature from passing sweeping changes to North Carolina's voting laws on Thursday.
As we detailed earlier this week the bill includes dozens of new provisions beyond a photo voter ID, such as:
* Cutting a week off Early Voting
* Elimination of straight party ticket voting
* Ending pre-registration for 16 & 17 year olds
* A ban on paid voter registration drives
* Elimination of same day voter registration
* A provision allowing voters to be challenged by any registered voter of the county in which they vote rather than just their precinct
* The repeal of three public financing programs
Senator Ronald Rabin denied the bill would make it harder for North Carolinians to vote:
"These are the things that protect my rights and the integrity of my vote," explained the Harnett County lawmaker.
Senator Earline Parmon of Forsyth County offered a much different take:
"It's unneeded. It's unnecessary. It's ungodly, and it's evil."
To hear a portion of Thursday's impassioned debate by state senators, click below: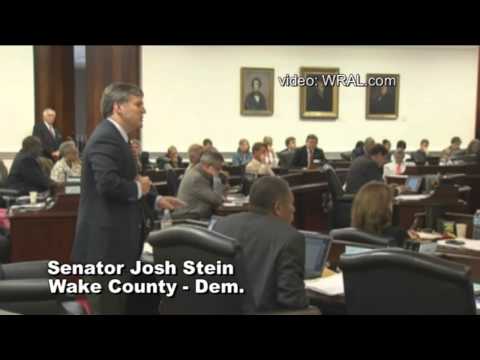 This entry was posted in Uncategorized. Bookmark the permalink.