Universities feel the strain under latest state budget (video)
Post on August 5, 2013 by Clayton Henkel
6 Comments »
Print This Post
Much has been written about the impact of this year's state budget on K-12, but for a third year in a row, the university system suffered the deepest cuts of the three branches of North Carolina's education system.
The UNC-system saw its bottom line slashed by nearly $66 million for 2013-14 under the new state spending plan.
NC State University Chancellor Randy Woodson says previous budget cuts resulted in larger class sizes and fewer class-sections.  This round of cuts will be even more difficult to achieve:
"Faculty, their workload, is already very high. And in fact they are doing a lot of administrative work they used to not have to do , because we have lost so many administrative positions," explained Chancellor Woodson. "We're going to step back from this and really think about the next phases of reorganization to help us adjust the university to what we think is the new norm in terms of state commitment to funding."
Woodson appeared last weekend on News & Views with Chris Fitzsimon to discuss the impact on higher education. To hear the full segment, visit the Radio Interview section of the NC Policy Watch website where you can listen online or download a podcast. For an excerpt from that interview, click below: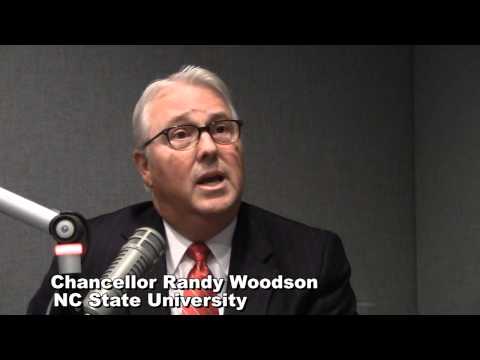 This entry was posted in Uncategorized and tagged budget, college, higher education. Bookmark the permalink.