NC's job growth comes in lowest-wage industries (video)
Posted By Clayton Henkel On August 29, 2013 @ 5:59 am In Uncategorized | Comments Disabled
As we approach Labor Day [1] weekend, new data [2] from the state Division of Employment Security  shows unemployment rates fell in 97 of North Carolina's 100 counties last month. However, most of the job growth this past year has occurred in Leisure & Hospitality, the lowest-wage sector.
This industry pays roughly $12 below the statewide average, according to analysis by the NC Budget & Tax Center [3].
MaryBe McMillan with the NC State AFL-CIO [4] says it's troubling that the employment opportunities that have replaced the manufacturing jobs lost during the recession fail to provide families a living wage:
"Folks cannot get by on $7.25 an hour, and it's long overdue we raise the minimum wage, make it a living wage, index it to inflation so we are not going another decade or so without a wage increase," explained McMillan in an interview with NC Policy Watch.
Minimum wage workers and their supporters will gather today (Thursday) in cities across the nation, including Raleigh [5], asking to be paid $15 an hour [6].
For a preview of McMillan's radio interview with Chris Fitzsimon, click below: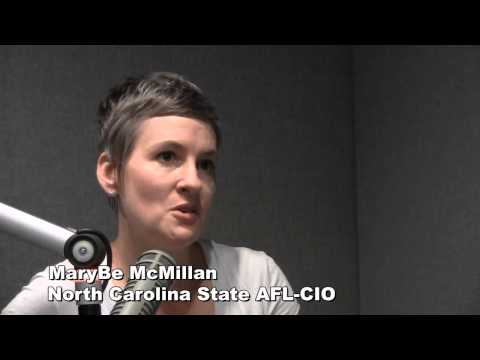 [7]
---
Article printed from The Progressive Pulse: http://pulse.ncpolicywatch.org
URL to article: http://pulse.ncpolicywatch.org/2013/08/29/ncs-job-growth-comes-in-lowest-wage-industries-video/
URLs in this post:
[1] Labor Day: http://www.dol.gov/opa/aboutdol/laborday.htm
[2] new data: http://www.ncesc1.com/pmi/rates/PressReleases/County/NR_July_2013CountyRates_M.pdf?utm_source=South+by+North+Strategies%3A+Subscribers&utm_campaign=68a17388d9-2013_July_NC_Local_Employment8_28_2013&utm_medium=email&utm_term=0_059868064a-68a17388d9-100083026
[3] analysis by the NC Budget & Tax Center: http://www.ncjustice.org/?q=budget-and-tax/media-release-drop-metro-unemployment-rate-over-last-year-driven-job-growth-lowest
[4] NC State AFL-CIO: http://aflcionc.org/
[5] including Raleigh: http://aflcionc.org/blog/wp-content/uploads/2013/08/fast-food-solidarity_nccommunityrallyflyer.pdf
[6] $15 an hour: http://www.wral.com/fast-food-strikes-set-for-cities-nationwide/12829652/
[7] Image: http://www.youtube.com/watch?v=ygTJGsSUIxg
Click here to print.