This week's DHHS recap (with audio)
Post on October 11, 2013 by Clayton Henkel
1 Comment »
Print This Post
It has been a long and somewhat bumpy week for the leadership of the Department of Health and Human Services.
On a positive note, the WIC Voucher program received a reprieve.
But after a full-day of testimony before the Joint Legislative Oversight Committee on Health and Human Services, it appears Secretary Aldona Wos left some state legislators with more questions about the agency.
Senator Floyd McKissick hoped for greater transparency Tuesday when it came to explaining certain employee contracts. Click below for a preview of McKissick's weekend radio interview on News & Views with Chris Fitzsimon: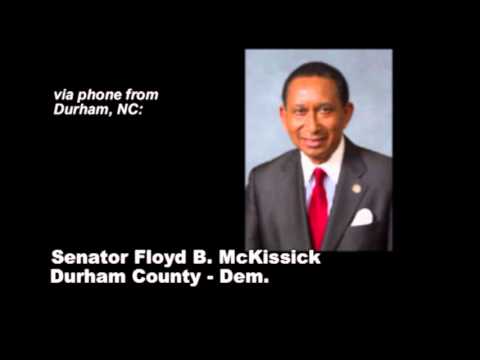 The editorial board of the Winston-Salem Journal chimed in Friday taking the DHHS Secretary to task for her recent remarks that answering public information requests were "impactful…. taking away time and resources from us doing our jobs."
The Journal writes:
'….we're sorry that the records requests inconvenience Wos, but we would remind the good doctor that the public has a right to know what its government is doing, especially the biggest department of its government, one that spends billions of tax dollars annually and that is doing a poor job of paying Medicaid providers.

We would add that the governor who appointed Wos came to office promising to fix what he calls a "broken government" and that her agency's inability to do the fixing is creating a crisis for some medical providers.

Wos would be wise to stop complaining about her press coverage and public records requests and focus more on fixing her broken department.'
You can read their full editorial here.
Finally, the Charlotte Observer has an opinion piece that pointedly asks: N.C.'s WIC benefits:Why did they stop?
'…we're troubled by what seems to be another head-shaking first for our state. We were the first and only state to cut off federal unemployment compensation for the long-term jobless, turning away $780 million the feds were offering to unemployed North Carolinians. Now North Carolina has stumbled to the front once again.

Wos needs to explain why. Did DHHS initially decline money the USDA says it was offering to everyone else? Why did DHHS wrongly calculate that it was out of money in the first place? The "most vulnerable citizens" she mentioned Tuesday would surely like to know.'
This entry was posted in Uncategorized. Bookmark the permalink.