Legislators pressed to strengthen coal ash bill before adjournment (video)
Posted By Clayton Henkel On July 28, 2014 @ 12:02 pm In Uncategorized | Comments Disabled
State lawmakers may come together [1] with a final budget bill this week, but environmentalists say there is plenty of work to do on a final coal ash management bill before legislators wrap-up the session.
Grady McCallie, policy director for the NC Conservation Network [2], says both the House and Senate versions of the coal ash bill (now in conference committee) are weaker than current law.
Click below to hear McCallie discuss the shortcomings in Senate Bill 729 [3], and click here [4] to hear his full 10 minute radio interview with Chris Fitzsimon.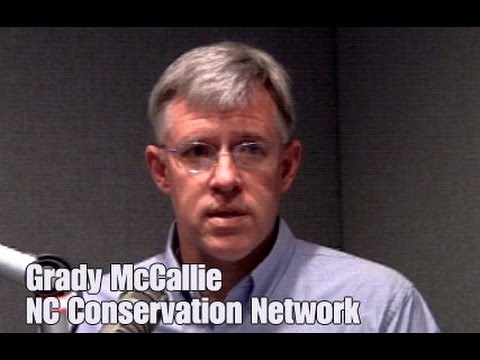 [5]
A new poll by Public Policy Polling commissioned by the NC League of Conservation Voters finds that 76% of voters surveyed think the General Assembly should require all coal ash ponds to be removed from waterways. Just 16% think they should be allowed to be capped and left in place.
Fifty-eight percent of those polled says they consider the environment be 'very important' in determining how they will vote in the next election.
To view the crosstabs on that poll, click here [6].
---
Article printed from The Progressive Pulse: http://pulse.ncpolicywatch.org
URL to article: http://pulse.ncpolicywatch.org/2014/07/28/legislators-pressed-to-stregthen-coal-ash-bill-before-adjournment-video/
URLs in this post:
[1] may come together: http://www.wral.com/today-nccapitol-7-28-white-smoke-rises-over-jones-street/13844716/
[2] NC Conservation Network: http://www.ncconservationnetwork.org/
[3] Senate Bill 729: http://www.ncleg.net/gascripts/BillLookUp/BillLookUp.pl?Session=2013&BillID=S+729&submitButton=Go
[4] click here: http://www.ncpolicywatch.com/2014/07/28/grady-mccallie-policy-director-for-the-nc-conservation-network-discusses-coal-ash-management-frackings-future-and-the-clean-up-of-jordan-lake/
[5] Image: http://www.youtube.com/watch?v=an6N0Oip060
[6] click here: http://nclcv.org/assets/pdfs/coal-ash-poll-072814.pdf
Click here to print.