1. So much for the charade of moderation in the General Assembly  
When the state House passed its budget last week, Rep. Chuck McGrady noted its bipartisan support in a tweet that captured what the House leadership wanted people to think was happening in the General Assembly.
"Sounds like the Speaker is leading from the middle," McGrady wrote, extolling the allegedly moderate leadership of House Speaker Tim Moore. Folks can disagree about the virtues and flaws in the House budget—which falls well short of making the investments the state needs—but it is indeed less radical than budgets passed by either chamber of the legislature in recent years.
All signs of moderation vanished this week. [Continue reading…]
2. Mixed messages for whistleblowers?
"Ag Gag" proposal, "Burt's Law" push in opposite directions
Editor's note: Governor Pat McCrory issued a veto for HB 405 (the so-called Ag-Gag bill) on Friday urging lawmakers to add protections for employees who report illegal activities to authorities.
Governor McCrory signed a bill yesterday that is designed to spur action from would-be whistleblowers who work in the group home and nursing home industries. The new statute, which has been dubbed "Burt's Law" in recognition of a developmentally disabled man who was sexually abused by a manager in a Catawba County group home, would make it a crime for employees or volunteers in such facilities not to report such information. [Continue Reading…]
3. Latest batch of prospective charter schools moves forward with concerns
State Board of Education meets next week to grant final approval
Back in 2013, when members of a state board tasked with reviewing charter school applications only greenlighted a handful of schools out of many hopefuls to open in the following year, they found themselves in the middle of a political firestorm.
"The plan was to have [charter] operators come into the state like they did in Louisiana and other states and quickly affect the public school choice landscape for the better and in quantity," said Charter School Advisory Board member Alan Hawkes in an email to fellow CSAB board members in late 2013. [Continue Reading….]
4. Next up in the House: Another lawsuit waiting to happen
North Carolina poised to become the nation's first state with a law allowing public officials to refuse to marry same-sex couples on religious objection grounds
Editor's note: Governor Pat McCrory issued a veto for SB 2 on Thursday, May 28th. The Legislature may attempt to override his veto.
The bill allowing magistrates to refuse to perform otherwise lawful marriages based upon religious objections moves on in the House today after passing the Senate in February, set for a hearing in Judiciary Committee I just after noon.
Senate Bill 2 — a product of the dust-up over federal court rulings allowing same-sex marriages to proceed in North Carolina – would give refuge to magistrates who refuse to comply with those rulings under color of their professed faith.
Though lawmakers couched their text in broad and vague terms, their intent in pushing the bill was clear: Stop gay marriages. [Continue Reading….]
****Bonus video: Watch House members debate SB2: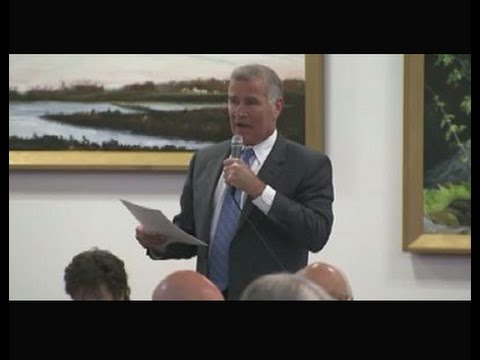 5. Head of North Carolina's charter school office leaving, taking job with controversial virtual charter school
The head of North Carolina's office overseeing charter schools is leaving for a job with a controversial virtual charter school opening up this year.
Joel Medley, who had headed the N.C. Department of Public Instruction since 2011, is leaving his state job to become the head of school for the N.C Virtual Academy. The school is a new online charter school opening this summer that will be run by the Wall Street-traded for-profit education company K12, Inc. (NYSE:LRN).
"I have accepted a position at the NC Virtual Academy in June and will serve as the head of school — returning back to my roots as a school administrator," Medley wrote Thursday in an email to N.C Policy Watch. "It has been an honor to serve here in the Department and I look forward to this new opportunity." [Continue Reading.…]