(Cross-posted from the website Reclaim the American Dream.org)
WASHINGTON– The populist revolt against the Electoral College burst into action after Al Gore won the nationwide popular vote for president in 2000 but George W. Bush won the Presidency. It gained new momentum after Hillary Clinton beat Donald Trump by 3 million votes in 2016, but Trump won the White House in the Electoral College.
Frustrated by a two-century-old mechanism that has twice foiled the popular majority in just 16 years, legislatures in 14 states and the District of Columbia, have joined forces to try to assure that in the future the popular vote winner will gain the Presidency.
These states have formed the National Popular Vote Interstate Compact, pledging to cast their electoral votes for the nationwide popular vote winner rather for the highest vote-getter in their own state – if enough other states agree to do the same.
In other words, rather than seeking to abolish the Electoral College, which would require a constitutional amendment with little chance for passage, the popular vote reform movement has devised what the digital world calls "a work-around.
Progress Report – 70% of the Goal
To work, this strategy requires firm legal commitments from states with the power to cast at least 270 of the nation's 538 electoral votes. With legislative action this past month by Colorado, Delaware and New Mexico to join the compact, the popular vote movement has amassed a total of 189 electoral votes – 81 short of the total needed to award the White House to the national popular vote winner.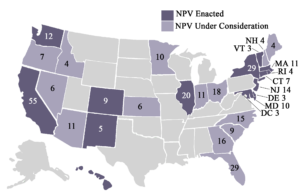 Two more states are on the verge of approval – Oregon and Nevada. One house in each state's legislature has voted to adopt the popular vote compact. Their governors say they are in favor. Adding their 13 electoral votes would bring the overall total to 202.
Another dozen states – more than enough to hit the goal – have started to take action on the popular vote compact. Nine have legislatures controlled by Republicans, once in favor of the popular vote reform but now, instead of moving ahead, they are hesitating.
Trump Flip-Flops on the Electoral College
What's the hold-up?
Donald Trump.
Historically, Donald Trump was no fan of the Electoral College. At 12:45 am on Nov 7, 2012, just after Democrat Barack Obama was declared the winner over Republican Mitt Romney, Trump attacked the Electoral College in a raging tweet:  "The electoral college is a disaster for a democracy." Trump cranked up a tweet storm rampage,  slamming the 2012 election as "a total sham and a travesty" and deriding the "phoney (sic) electoral college."
Four years later, Trump flip-flopped. One week after the Electoral College rescued him after he had lost the popular vote, Trump no longer thought it a "disaster" but extolled it as a miraculous mechanism. "The Electoral College," he glowed, "is actually genius in that it brings all states, including the smaller ones, into play."
Awkward for Republicans
That's not what some important Republicans had been saying. In 2014, former House Speaker Newt Gingrich warmly endorsed the popular vote compact. With a Democrat in the White House, Gingrich complained that the Electoral College was pushing presidential campaigns to concentrate on a few states and ignoring all the others – bad for democracy. Read more