As most people are aware by now, General Assembly police officers and House sergeants-at-arms evicted 50 or so peaceful and respectful protesters yesterday from the second floor of the state Legislative Building under an obscure rule that purports to bar members of the public from the second floor of the Legislative Building if they do not have prior authorization. Mind you, this action was taken on a quiet day at the General Assembly in which there was no business on the House or Senate calendars and on which relatively few lawmakers were even present on a floor that literally teems with people during regular legislative sessions.
Interestingly. police and House Speaker Thom Tillis — who defended the action and, depending upon who you believe, may have even participated in it — took a decidedly different approach toward a gaggle of Tea Party protesters who visited the General Assembly during a busy session day last March.
Check out the video below to watch yesterday's eviction juxtaposed with footage (posted by our friends at the Pope-Civitas Institute) of the Speaker and his Chief of Staff Charles Thomas speaking amicably with conservative protesters in the exact same second floor hallway. 
Evidently,  there is a bit of a double-standard as to which members of the public get access to the Legislative Building  these days: Agree with Tillis (or be a corporate lobbyist) and he'll let you stay and even hang out with you. Disagree — even silently — and you get the boot.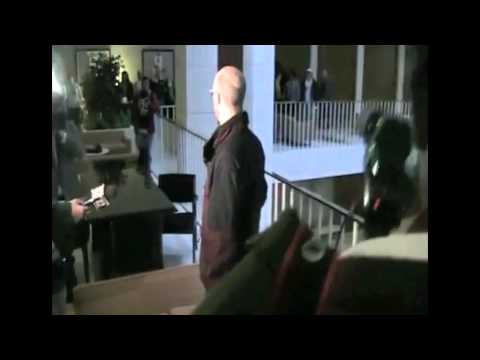 You can watch both of the original videos in their entirety by clicking here by clicking here.