As you sit down to lunch today, here's some food for thought: Military families' reliance on food stamps hit a record high last year.
Think Progress reports that food stamp spending by servicemen and women exceeded $100 million in 2013:
'Food stamp usage at the stores has more than quadrupled since 2007 as the recession compounded the already difficult financial situation faced by military families. New soldiers with a child and a spouse earn $20,000 per year in pay, according to CNN Money, and the frequent relocations and disruptions inherent to the lifestyle of a military family make it harder for military spouses to find jobs and bring in supplementary income. The unemployment rate for young military spouses was 30 percent in 2012. Retired military servicemen and women who joined up after 9/11 have a 10 percent unemployment rate, which also contributes to the elevated food stamp figures at DOD commissaries, and nearly a million working-age veterans lived in poverty in 2010.'
And the recent cuts to food stamps have impacted more then just veterans. Alan Briggs, executive director of the NC Association of Food Banks, tells Policy Watch prolonged unemployment, reduced hours, and stagnant wages have more North Carolinians turning to the state's food pantries to make ends meet.
You can hear Briggs' full radio interview here with Chris Fitzsimon, or watch a short video excerpt of that segment below: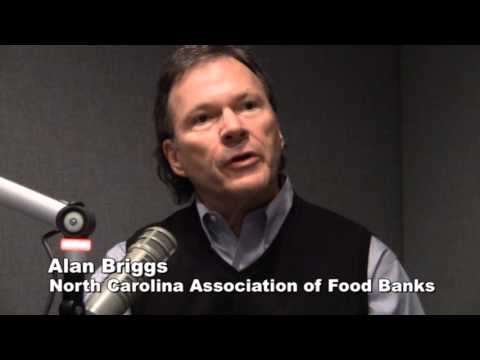 One step forward, one step back? WRAL.com reports that the number of backlogged food stamp cases is on the up-tick again, just a week after the first federal deadline to clear the majority of delayed cases. The NC Department of Health and Human Services is facing an additional March 31 deadline to clear its remaining backlog of cases.
While we're on the subject of struggling families, be sure to join the NC Justice Center this evening for a free screening of Inequality for All, a new documentary addressing widening income inequality in the United States presented by American economist and former U.S. Secretary of Labor Robert Reich.
Reich takes on the enormous question of what has been happening to our economy – distilling the story through the lens of widening income inequality. He explores what effect this increasing gap has not only on our economy but our democracy itself.
Tonight's doc will be shown from 6:00-8:30 p.m. at William Peace University's Browne-McPherson Music Building in Raleigh.
Finally we'll close out today's lunch links with Scott Bradlee and Postmodern Jukebox. Their rendition of Sweet Child O' Mine has gone viral over the past few days.  All we can say is step aside Axl Rose, blues diva Miche Braden steals the show: